INA, Ill. (October 13, 2022) — Rend Lake College would like to extend a warm welcome to the community to its inaugural "Meet the Warriors" event. This free event is Wednesday, October 26, from 6-8 pm at Waugh Gym on the RLC campus.
Guests will have the opportunity to interact with the college's fall athletes and discover more of what it means to be an athlete competing at a collegiate level. Patrons can expect games, snacks, giveaways, and memorable opportunities to interact with the college's finest athletes while snagging their autographs on a free 11x17 poster.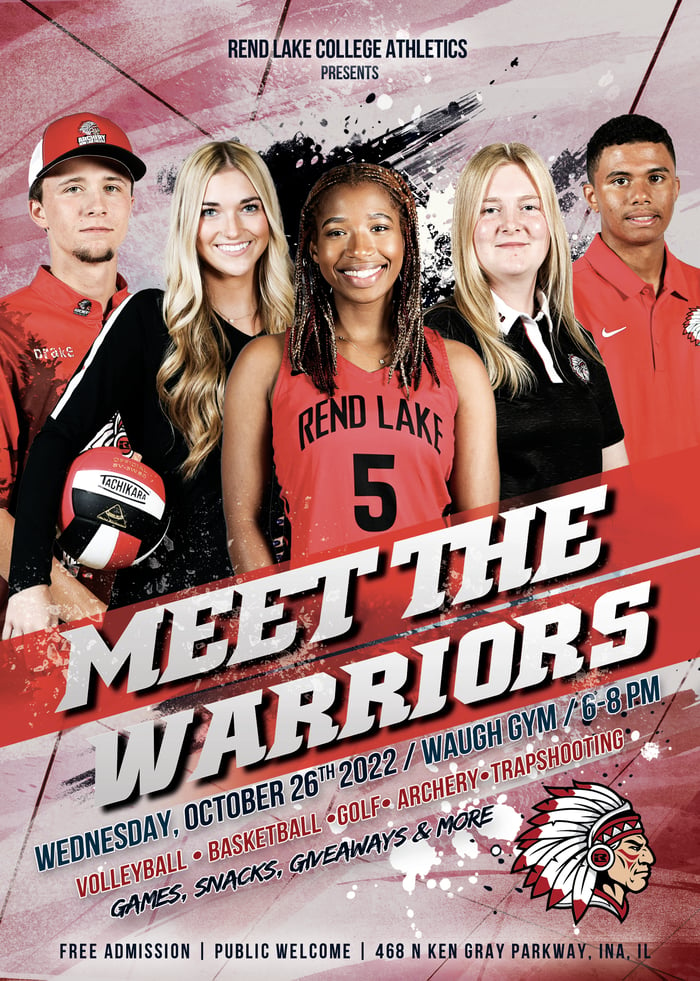 "I look forward to seeing the community come out to help encourage the younger generation and show them what is possible," said Lynsey Sims, RLC's Social Media and Outreach Specialist. "Our student-athletes have earned national recognition for their academics and athletic achievements. Even being an affordable, close-to-home college here in Southern Illinois, we can compete with the best. We have many athletes that go on to play at 4-year universities, and they credit their time at Rend Lake College as incredibly valuable to their success."
Sims, the event organizer, plans to include athletes from volleyball, men's golf, women's golf, archery, and trap shooting.
"I think the Meet the Warriors event will be a great opportunity to showcase our coaches and student-athletes to people from our surrounding communities," stated RLC's Athletic Director, Tim Wills. "I know our athletes will enjoy meeting and interacting with the young people from our in-district schools."
If you have any questions regarding this event,
please contact Lynsey Sims at [email protected] or by calling 618-437-5321 Ext 1274.
---